The Metis
---
"We, the Métis are a people of the lands which gave rise to our history and tradition and culture. We call these lands the Métis Homelands. The Homelands stretch from the lakes and rivers of Ontario; cross the wide prairies; traverse the mountains into British Columbia and into the far reaches of the Northwest Territories. They include the hills and valleys of the north-central American States. These are our lands. They are Métis lands. They are the lands of our past which nurture us today and which we value as the precious foundation of our future."
Our Prime Purpose include:
---
Creating a Métis-specific governance structure for the implementation of the nation's inherent right to self-government in the province;
Establishing a credible and recognized identification system for Métis people within the province;
Focusing on 'nation building' through working together as a collective in order to support Métis citizens and communities;
Pursuing a rights-based agenda and proudly asserting the Métis existence as a distinct Aboriginal people within Ontario;
Protecting and preserving the distinct culture and heritage of the Métis Nation in the province; and,
Improving the social and economic well-being of Métis children, families and communities throughout the province.
International Woman's Day
---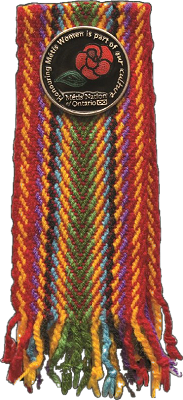 we observe International Women's Day, the Métis Nation of Ontario recognizes and honours Métis Women, Girls and Two-Spirit people. It is through honouring one another and embracing our culture that we show the true strength and resilience of the Métis Nation.
The Métis Nation of Ontario acknowledges the momentum that is building in our communities and across Canada. There is a growing will and commitment to address violence that affects Métis, First Nations and Inuit individuals, families and communities. The MNO has called for an end to gender-based violence through actions such as the 2014 AGA Resolution calling for a National Inquiry on Murdered and Missing Aboriginal Women and the adoption of the Métis Nation of Ontario Declaration to End Violence Against Aboriginal Women. Ending violence is a major priority for the MNO and we are encouraged by recent commitments made by the federal and provincial governments.
The MNO delivers programs and services that provide peer supports to individuals and families affected by violence. Métis community workers are creating opportunities to 'give voices' to families that have lost a loved one through organizing vigils, memorials, ceremonies and through creating digital stories and tributes. As part of the Honouring Métis Women education campaign, the MNO is facilitating celebrations to honour Métis Women, Girls and TwoSpirit people who have experienced violence and is focused on preventing violence in our communities.
if you are interested in knowing more about the MNO's work in Ending Violence Against Aboriginal Women or have questions in regard to the National Inquiry on Missing and Murdered Indigenous Women and Girls and other developments, please contact our Manager of Strategic Initiatives, Jennifer Lord at 613-798-1488 ext. 105 or by email at jenniferl@ Métisnation.org


President Métis Nation of Ontario
---
Contact Information
Location:
156 McIntyre St W
North Bay ON
P1B 2Y6

Email:
info@northbaymetiscouncil.ca
Metis Nation
As part of the Metis Nation of Ontario, the North Bay Metis Council is a chartered council in Region 5. Our goal is to unite the Metis people and promote the historical values, culture, language and the traditions of the Metis Nation within our community.
Service
Offers a wide range of community-based and culturally appropriate programs and services to Métis people.
Copyrights © 2021 All Rights Reserved by North Bay Metis Council