Council Members
---
President Jeannine Vaillancourt
Jeanning and her husband of 43 years are both retired and live in Sturgeon Falls, and she feels very blessed when it comes to family. She and her husband have three sons, one daughter and three grandchildren.
Her childhood years were spent in River Valley, back then the population was about 300 and she grew up immersed in tradition Metis culture.
Her father made sure that she knew all things related to hunting and fishing because this way there would always be food on the table. It was her grandmother that showed her how to grow and harvest traditional medicines and it was from her mother where she learned the different ways to cook, can and preserve food. She also learned how to dry and store medicines.
Today she thanks her elders for this knowledge, but back then it was not something the family spoke of becuase there was a stigma associated with being Indigeneous.
Jeanning is bilingual and started working at a young age. She did some waitressing and housekeeping and was a Francophone researcher for the Laurentian University. Later on she owned and operated The Gallery Cafe, a restaurant that was her pride and joy.
Then Jeannine's husband received a job offer in Timmins and they decided it would be best for the whole family to move there, and it was during that time that Jeannine went on to become a real estate agent and worked in the business for several years.
It was during this time that she opened up a house training facility and boarded horses. She trained and raced her own horses in Chelmsford at Sudbury Down and in many other places in Ontario and Quebec. Between her family and a few employees her training facility flourished.
After retiring Jeannine and her husband did some travelling and after her father passed away she took care of her mother for eleven years. It was the best decision she had ever made for herself and the family because it created great memories. If she had to do it again, she would.
Alway having an interest in the arts, Jeannine has taken a few courses and was invited to paint with Judith Dazzio, an international painter who lives in Saint Petersburg, Florida. Jeannine also enjoyes crafts like beading, mitten making, making medicine bags. Jeannine is proud of her Metis heritage and loves to share her traditional knowledge with the Metis citizens in our region.
Her father's old hunt camp in River Valler remains in the family and Jeannine loves spending time there. For Jeannine this is a place of reflection, a place where she belongs. When she visits she feels a strong connection to her parents, it feels like they are watching over her.

Senator Marlene Greenwood
Marlene was born, raised and has lived in North Bay her entire life. She did not discover her Metis heritage until 1971, but quickly joined the Metis movement that same year.
Prior to the formation of the MNO she held several different positions with the local Metis associations, including President.
She is also one the MNO's earliest citizens, becoming MNO citizen in 1994. Her late husband Norman was also an MNO citizen before his passing in 1995. She is currently Senator, a position she has held since 1997.
In 2012 she received the Suzanne Rochon-Burnett Volenteer of the Year Award. Marlene is a descendant from the De Laronde family line and has two frown sons, sic grandchildren and three great-grandchildren. Favorite Quote: Never stick anything in your eaar smaller than your elbow!

Councilor Jerry Greenwood
Jerry was born and raised in North Bay and is the youngest of two siblings. He is the son of both SSenator Marlene Greenwood and Norman Greenwood who sadly passed away in 1995, after losing battle with cancer.

Councilor Gavin Pigeau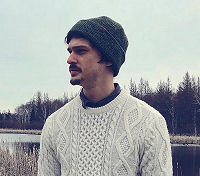 Gavin was raised in North Bay for most of his life, his family has been in the area for many generations. He studied at Laurentian University for English and Theatre as well as the Business Program at Canadore College. More recently he works as an Office Coordinator for a local Pest control company, is a father to two kids and enjoys contributing to the community through giving back as well as participating in local community Theater.
He is happy and honoured to call North Bay home and tries to contribute any way he can.
Contact Information
Location:
156 McIntyre St W
North Bay ON
P1B 2Y6

Email:
info@northbaymetiscouncil.ca
Metis Nation
As part of the Metis Nation of Ontario, the North Bay Metis Council is a chartered council in Region 5. Our goal is to unite the Metis people and promote the historical values, culture, language and the traditions of the Metis Nation within our community.
Service
Offers a wide range of community-based and culturally appropriate programs and services to Métis people.
Copyrights © 2021 All Rights Reserved by North Bay Metis Council